Smarter, faster, engaging and actionable meeting experiences
Plug and Play
Easy to use and easy to install mobile and desktop applications. No heavy IT infrastructure or training required
Streamline Workflows
Embed your online meetings experience into everyday applications like Google®, Microsoft® and more.
Meet Anywhere
Host and join meetings wherever you go with the Online Meeting desktop and mobile apps.
Meet Securely
AnyMeeting encryption enables HIPAA-compliance using WebRTC standards with SSL and DTLS for signaling, and SRTP protocols for all data and media.
Remote Work – Be There
Without Being There
Even in light of recent travel concerns, businesses have increasingly been looking for opportunities to cut down on the travel of their employees, while at the same time maintaining the level of collaboration and important sense of connectedness that face-to-face meetings can afford. The advent of new, affordable communications solutions – such as cloud-based video conferencing, cloud voice, and file collaboration – over the past several years has helped to usher in a new era of the way people work; addressing both the cost and productivity interests of employers, and the ever-increasing desire/expectation of employees to have greater flexibility of where they work
All Online Meeting Plans Include:
Full HD video: 720p HD video conferencing with up to 12 webcams supported.
Audio: Conference call numbers and PINs are provided, so participants can join by phone or computer.
Screen sharing: Share your screen for more interactive meetings.
Screen annotation: Meeting participants can call out important points on a shared screen in real-time during a meeting.
Meeting transcripts and insights: Meeting hosts can transcribe recorded meetings and automatically identifies actionable items.
Notes: Capture meeting notes in real-time–notes are automatically sent to all meeting participants.
Remote control: Give participants direct control of your keyboard and mouse so you can collaborate better together.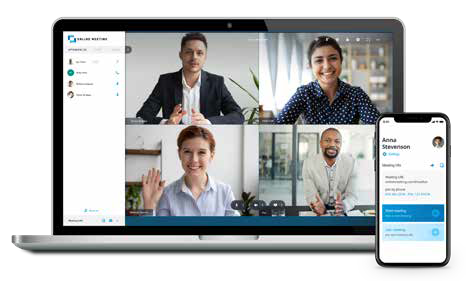 Built in collaboration tools and screen sharing make it easy for participants to share content in real-time for more productive meetings.
Online Meeting Pro Packages
Online Meeting: Security GuideOnline Meeting invests considerable human and capital resources to help ensure a secure meeting experience for our customers. Through the use of numerous security features built into the product, regular security audits by third parties and continued investment in our security environment, we make every effort to deliver a highly secure service that protects the confidentiality of the participant data and meeting content with which we are entrusted by users of our service